Remote connection to the engine
Emission monitoring
Data analysis
Configurable notifications
Reports and data consolidation
Safe connection
YOUR ENERGY. YOUR DATA. IN YOUR HANDS
myPlant is an application for remote monitoring of aggregate parameters in real time from all over the world without logging to operating panel of DiaNe – that enables:
Access to operational and performance data of the plant and site from any period of time of customer's choosing).
Access to particular assembly and subassemblies, engine successful starts, engine hours, engine starts and alarms, analytics, etc.
Desktop customization for particular needs by choosing four different engine elements to match customer's criteria.
Newest technical support issues and all important engine documentation access by using the same desktop!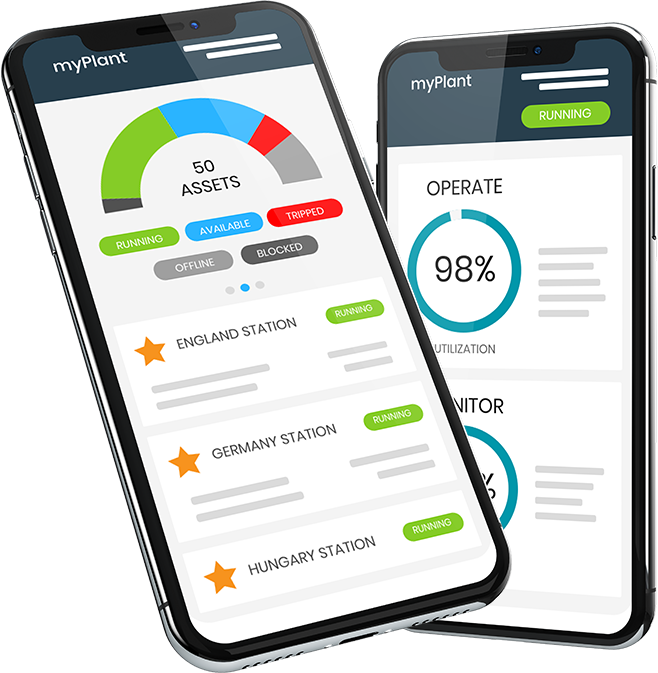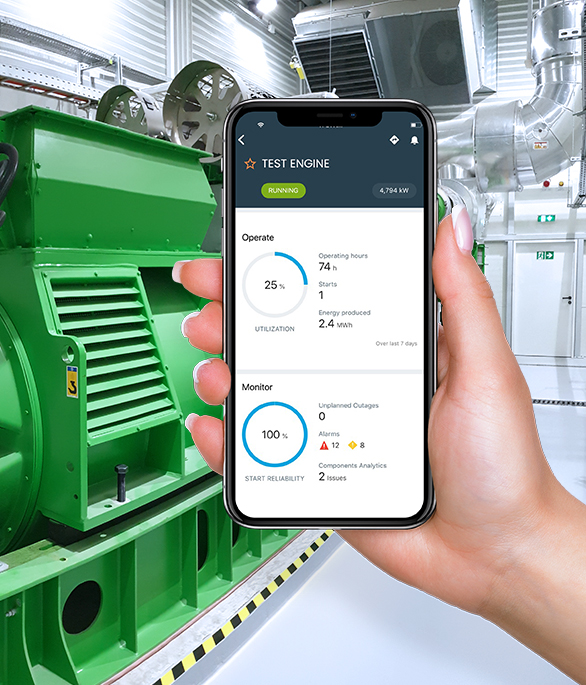 The application is irreplaceable for analysis of aggregate performance parameters, maintenance and overhaul schedule planning and fast root cause of engine breakdown. Additionally, a new emission monitoring function was implemented – that enables (1):
Monitoring of engine emission parameters in a period of time of customer's choosing
Downloading an emission report to simplify following current regulations regarding pollution emissions in your country.
Customizing the emission notifications combined with analytics based on myPlant Performance. rules
(1) Actualization regarding emission is required.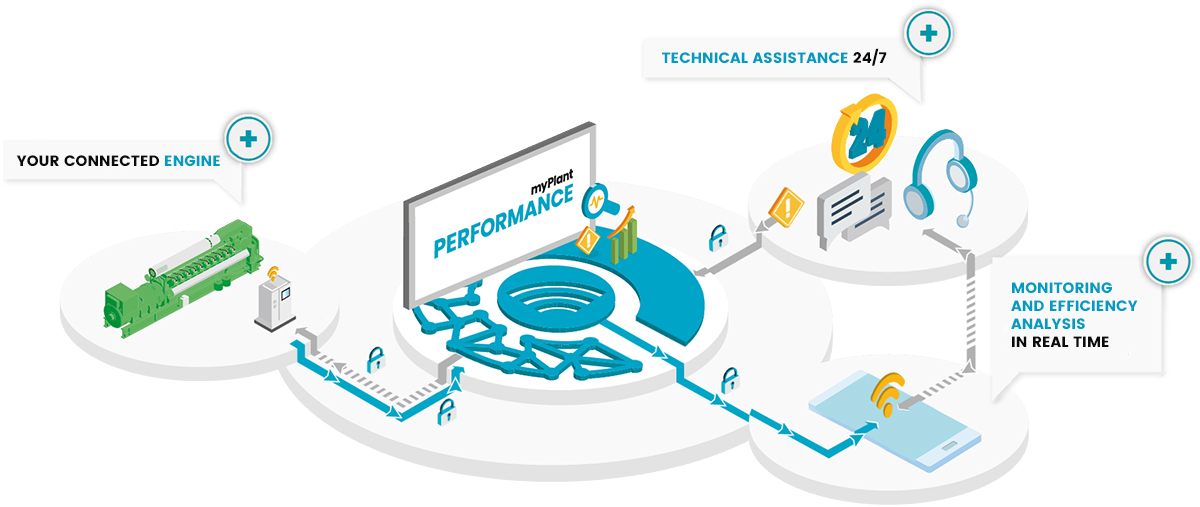 Thanks to used solutions myPlant Performance algorithms continually analyse data sent from the engines in order to find every anomaly that would result in engine unplanned event.


Based on the data from thousands of engines, analytical algorithms differentiate patterns of engine regular performance and notify the user when an anomaly occurs.
If a significant anomaly occurs – before any unplanned event – the user is immediately notified via Email or SMS and receives instructions on how to proceed.
Analytical algorithms also provide a precise forecast regarding spark plugs, lube oils and filters lifetime which allows the replacement only when necessary.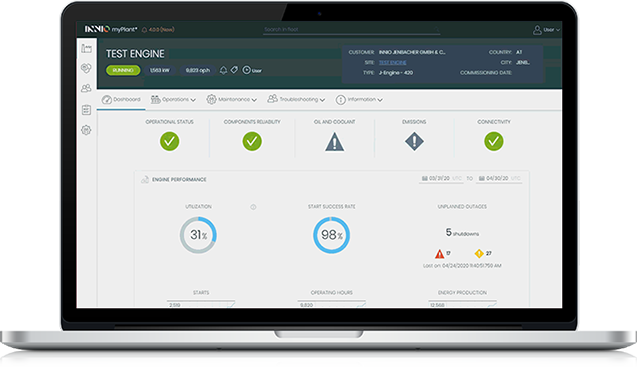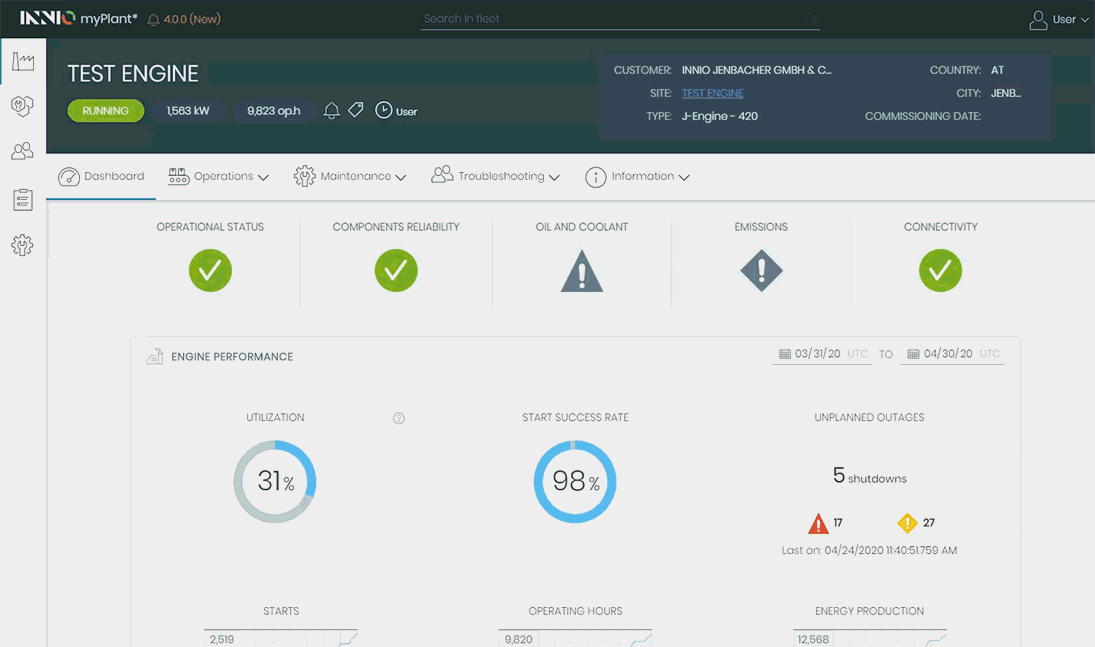 With myPlant you get:
Valuable information regarding fleet thanks to automatic reports by myPlant Performance.
Fleet daily performance insight – connectivity, maintenance, efficiency in order to be up to date with most important topics.
Savings on performance by using automated generating reports process.
Oil and coolant analysis reports integration – in order to store all necessary data in myPlant Performance.
MyPlant application is constantly improved and expanded with new options by IT team at INNIO Jenbacher.
BASIC
CARE
PROFESSIONAL
Basic / advanced monitoring
Engine hours
Historical and current data trends
Alarms and notification managements
alarms only
Engine documentation access
Mobile application
Engine logs
Remote access to engine control
Fleet management
Engine status notification (SMS / Email)
Basic / advanced monitoring
Preventive spark plug, oil and air filters overhaul *
spark plugs only
Oil and coolant parameters control *
Fleet emission monitoring *
only engine emissions
AI and predictions
Forecast data package
Historical analysis of performance
Monitoring according to user's set up
On demand: myPlant access through API service
(Application Programming interface) *
---
* if available